Clawfoot tubs are not just any ordinary tub in your bathroom. You can buy unique clawfoot slipper tubs to enrich your bathroom spaces with stylishness. Indeed, many people are now going for bathtubs with claw feet. Based on studies, homes with clawfoot tubs sell about 30% more than the normal price.
The new clawfoot tubs come in numerous styles. And, depending on the particular design, the feet contain diverse styles with attractive finishes. So, you can go for a clawfoot tub finishing that matches other bathroom accessories. The bathtub's feet finishes include line paw, imperial feet, and the traditional ball-and-claw.
Besides, investing in your bathroom design with the modern clawfoot tubs will boost your home's value. Alongside the bathtub's beauty, most homebuyers enjoy the convenience that comes with the freestanding tub models. Such bathtub designs give them the freedom to position the tub anywhere they want at any time.
So, you have the freedom to transform your bath spaces with the clawfoot tub varieties like:
Fiberglass clawfoot tubs
Acrylic clawfoot tubs
Clawfoot tubs with showers
Clawfoot tubs shower enclosures
The discussion below will give you more reasons why you should acquire clawfoot tubs. Let's probe further.
1. There are Wide Varieties of Clawfoot Tub Materials
Clawfoot bathtubs are a fantastic way to give your bathroom the modern or traditional appeal that many people desire. It helps to know that the appearance of clawfoot tubs has changed since they came about almost two centuries ago.
Today, you can choose a traditional yet admirable tub design with the vintage clawfoot bathtub. You can also choose the modern clawfoot tubs for the contemporary models. For example, fiberglass clawfoot tubs and acrylic clawfoot tubs are appealing modern designs. Read more about Effective Ways to Unclog a Toilet That Won't Drain.
Indeed, the materials used to make clawfoot tubs have changed. Acrylic is presently the most popular clawfoot bathtub material. However, the existing classic look with magnificent claw feet remains the same as before. There are also clawfoot tubs made from cast iron, whereby some are coated with porcelain. Cast iron is an old material used centuries ago and still applies to date.
There are also those clawfoot tubs made with shiny metal like copper and nickel. These materials give your bathroom a luxurious look you might be looking for. Additionally, the most modern clawfoot tubs made from acrylic material are also very durable. Such designs make clawfoot bathtubs one of the most long-lasting tubs. Once you install them, they can last you many years ahead. So, durability is also another benefit of using clawfoot tubs.
2. Comes With Desirable Sizes to Suit Different Bathroom Designs
The old-fashioned clawfoot bathtubs would mainly consume a lot of space in a bathroom, as they extended in square footage. But, the modern small clawfoot tubs for sale are the points of attraction as they become the bathroom's main focal point. Notably, most people like these modern freestanding tubs because they're an icon of beauty and flexibility.
Once you install the tub, you get to enjoy the utmost convenience. You can place the small-sized clawfoot tub at the central part of your bathroom or against the walls. Furthermore, you can use this magnificent standalone tub in a small bathroom, and you still attain the spa-like experience.
Fortunately, the freestanding tubs are available in varying shapes to fit different-sized bathrooms and locations. For example, those who go for the oval-shaped bathtub with claw feet can comfortably position the tub at the central parts of the bathroom. The tub can also fit comfortably at the corners.
3. You Can Easily Match Your Clawfoot Tub With Other Bathroom Accessories
Once you have the clawfoot tub installed in your bathroom, you can add other matching accessories of textural contrast. This will help heighten the ambiance in your bathroom and give it a transformed look that everyone around will admire.
Some of the ideas to match your clawfoot tubs with other bathroom accessories include:
Match the clawfoot design with fish scale tiles. In return, your bath spaces turn out to be an aura of beauty with a sense of originality.
You can also have a mosaic-like tile arrangement. This is where you combine three or more shades to create a colorful canvas.
Paint your clawfoot slipper tub in matte finishes. The color exceptionally contrasts a shiny bathroom floor and the golden claw feet.
4. You Can Use Your Clawfoot Tub to Create a Colorful Bathroom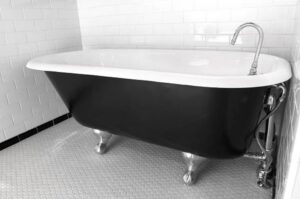 No one should convince you that you have to stick to the standard white-colored clawfoot bathtubs. There are other incredible ideas below:
● DIY-Painted Clawfoot Tub
A few splatters of paint on your clawfoot tub can make your farmhouse bathroom design more creative. This presents a more colorful and traditional look that brings out your personality. With splatters, you're not limited to the color varieties you can apply.
You can also paint your pure-white clawfoot tub to have a black and white mixture. The whole activity can be fun, especially when involving other family members, including the kids.
● Colored Clawfoot Tub
You can also choose to buy a colorful red, blue, green, or orange clawfoot tub that also matches the sink and bath cabinet. The result is a bathroom space filled with style and color.
Wrapping Up
Often, any bathroom accessory that makes you thrilled will undoubtedly make your bath moments exciting and refreshing. So, if you're ready for a spa-like experience in an elegant bathroom, you can try out the modern clawfoot tubs.
Well, the clawfoot tub can transform the stylishness in your bathroom entirely and heighten your bath experiences. The most beautiful part is that; you can still enjoy the beautiful moments even if your bathroom is small in size.
Again, you have the liberty to choose from a wide variety of bathtub materials and designs available. Also, you can use the colors you like to create a unique and personalized bathroom for a spectacular ambiance. And, when the aura in your bathroom is pleasant, it makes all your moments in the bathtub count.