Lifestyle
Beautiful printed traditional Ajrak blouse design for sarees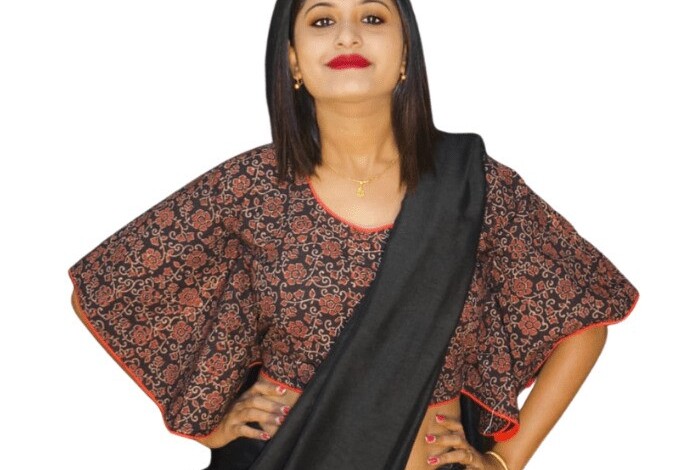 Wedding season is coming and everyone wants a new outfit. Wedding is not just about enjoyment, it's about celebration and celebration is incomplete without new clothes. In every function we buy new outfits and we celebrate our festivals. We buy different types of clothes according to the function. In holi we wear white and neutral colours to pop up the holi colours and in Diwali we wear yellow colour clothes because Diwali is the colour of lights . Men,kids and women all wear traditional clothes . Men and boys usually wear kurta pyjamas and women kurti plazo and saree blouses. For womens we have beautiful printed pattern blouses of ajrakh. Ajrakh blouses are very famous among women of India because of beautiful patterns Gorgeous design and unique cuts on the blouses.
Butterfly sleeves brown and orange combination unique ajrakh floral blouse design
Beautiful butterfly fancy blouse . This blouse has unique and trendy butterfly sleeves . The neck area is round with a border of wine red . Gorgeous orange little flowers print all over the blouse. This blouse is perfect for day out and parties. The back area is also round with a line of red ,the hand area is also covered with red cotton clothes. You can match this blouse with gold plated jewellery .
Backless black floral print unique ajrakh blouse design
Gorgeous backless blouse for beautiful girls. The hand area is of half sleeves and the neck area is of round shape . Beautiful white small flowers all over the blouse. This blouse is perfect for party wear. Match this beautiful blouse with black earrings and black bangles. This blouse will look perfect and beautiful with any of your simple cotton or Georgette saree.
Multiple colour floral printed ajrakh blouse design
Beautiful neutral colour multi design blouse. Neck area is round and back area is also round in shape. The chest area has unique round border covering whole area. The hand area is of half sleeves with mounting type cut on the corner of the blouse. This blouse has two different types of patterns one is floral and second is dotted. The floral print is on chest area and dotted print on the hand area. Perfect for everyday and for festivals. This is made up of pure cotton material which is very soft and comfortable.
Off sleeves attractive floral print bold ajrakh blouse design
Very gorgeous blouse and will give you a bold look. The hand area is covered with floral type of clothes covering the upper hand area . The chest area is covered with triangle box and neutral floral print. Perfect for Summers , very comfortable and will absorb all your excess sweat. This beautiful printed blouse should be in your wardrobe. Combine this blouse with simple gold plated jewellery and some bangles.
Attractive backless heavy floral print of ajrakh blouse.
Combination of blue and red is just fabulous and suits every skintone. This blouse is for newly brides . Gorgeous backless blouse with two knot design on the upper and lower back. The whole blouse has a print of white,red and black broad flowers. Broad flowers just look perfect with simple sarees. For this blouse you just have to wear a red saree and minimal jewellery. This blouse is for special occasions and festivals.
Heavy print off sleeves ajrakh blouse design
This collor design of blouse is for girls who want to wear blouse with a western effect. This blouse will give you traditional as well as western look. Sky blue colour suits indian skintone and enhances your beauty hundred times. Orange Button on the chest area with round border to give you a comfortable vibe. You don't need any heavy jewellery to pair it ,just take some peral little earings and a little bit of makeup.
Conclusion
All the above blouse are very comfortable and give you a classy look. All this beautiful blouse will suits every skintone. If you are looking for any party wear blouse, wedding blouse or summer wear blouse just pick any of them and you will amaze to see your new and beautiful look. Different types of be