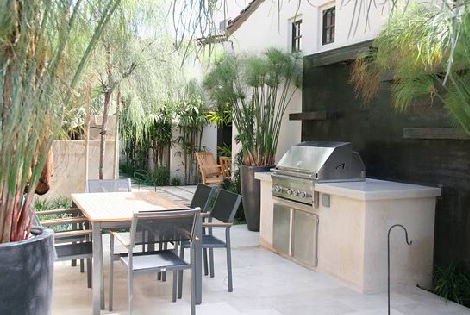 Life during covid-19 changed quite a bit. People were following the stay-at-home order and making peace with the new changes. Apart from adjusting to the stay at home, they were also looking for new ways to use their indoors and outdoors in the best way possible for gaining mental and physical health.
Outdoor living has gained a lot of popularity during the covid times. From using the backyard for gardening, people have come up with different ways to make it useful every day by adding smart technology to it. Outdoor living is synonymous with quality time spent at home. Be it the backyard in semi-urban areas, the small balcony in urban areas or lush green acres of open land in the countryside, use the following trends to make it useful for yourself.
Outdoor Kitchens
Outdoor kitchens have become extremely popular these days. Outdoor cooking while enjoying nature is a thing now. People prefer kitchens outside in their backyard to spend some quality time with their friends and family. Several outdoor kitchen designs are available in the market, such as a satellite kitchen where pizza ovens and grills are provided as additional cooking elements. Others include storage, sink, refrigerator and cooking elements to meet most cooking needs outside. The design you choose for your backyard is based on factors like budget, space and weather.
Multipurpose Furniture
Multipurpose furniture is trending in areas that have large backyard spaces. They come in various designs to suit your house's interiors and match the backyard vibe in style. The furniture includes convertible tables that can be used as seating or chairs and items with hidden cabinets.
Furniture is all about how one lives; hence, the designers accommodate everyday life and gatherings into one. Since nowadays entertainment is more or less about being together at home and staying away from crowded places as much as possible. Therefore, using your backyard to put up elegant furniture is a great idea. You can also accommodate the furniture with an outdoor kitchen for better convenience if you have enough space.
Social Yards
Use the front area or the backyard to decorate it with landscapes. You can easily use the space in the front yard or backyard to maximise the living space and create a social environment. For example, you can hold gatherings there or use them as your reading area.
Landscapes are very popular in Australia, given the temperature and weather. If you are living in or around Perth, search for 'Landscaping Supplies Perth' on Google and find the best landscaping services to style your backyard. Then, scroll through different designs based on your budget, available space and preference.
Outdoor Technology
With the increase in the number of people working from home and living inside, the craze for making the outdoors more technological sound has also increased. People are using outdoor spaces to set up an office by installing wi-fi signal amplifying devices and proper seating to match the natural environment. In addition, many people have started putting up screens to watch movie shows and enjoy quiet family time. Most of the technology seamlessly integrates into the outdoor space; hence it does not even change the outlook of your backyard.
A Sustainable Garden
The sustainable garden is preferred by people who love to explore new plant varieties and are fond of gardening. We suggest using the backyard to transform it into a native garden where you place regional plants. Like the weather, temperature and surroundings help in their better growth. Many people even make a kitchen garden in their backyard and have fresh veggies and fruits grown organically. Incorporating native plants in your garden also benefits the birds and insects of the area.
Final Words
Backyard and outdoor innovations were popular many years ago, but covid-19 stay-at-home orders have brought it back. People are now innovating and creating new things to try in their outdoors. From outdoor kitchens to using backyards as their office spaces, several trends are going viral. More so because people are looking to strengthen their mental and physical health by creating what brings them peace; for some, it is gardening; for others, it is just sitting in the backyard full surrounded by greenery for their reading time.